This week I attended Book Expo America at the Javits Center in Manhattan to promote my fall YA release, All the Truth That's In Me. It was my first time attending BEA. I was unprepared for the immensity, the sensory overload, of so many publishers under one cavernous roof, selling the sizzle of their summer/fall lists. Literary candy was strewn everywhere you looked. The mood seemed entirely upbeat, with lots of enthusiasm for the future of the book business, which was great to see.
Real life horror stories panel, SLJDOD13
My schedule began with a panel at the School Library Journal Day of Dialogue event on Wednesday, May 29th at Columbia University. My panel was "Real World Horror Stories," facilitated by Karyn Silverman, a high school librarian in New York City. Karyn did a fantastic job moderating the panel. My fellow panelists were Adele Griffin, Matthew Quick, Elizabeth Scott, and Elizabeth Wein.
I confess, when I learned what luminaries my fellow panelists were, I envisioned myself being yanked off the stage by a Muppet Show hook. I shouldn't have worried. They were thoughtful, hilarious, and kind.
Signing books with Elizabeth Wein
Later in the day I signed galleys of All the Truth That's In Me – the first time I've ever autographed this book. A happy, silly, private little milestone. Here I am signing with Elizabeth Wein, who came to promote Rose Under Fire, a companion novel to Code Name Verity.
Thursday, May 30
th
, was my day to stroll the tradeshow floor, then sign more galleys of
All the Truth
. I dressed in red to match my book jacket. ;) Penguin had done a lovely job promoting the signing; I was happily astonished to see long lines of people waiting for their books. A huge thank you to everyone who stopped by! Read in good health, and please tweet me your thoughts. A special smooch goes to the friends who stopped by say hello.
Signing galleys at the Penguin booth
Just prior to my signing I had the good fortune to meet Kathleen McInerney, the voice actress narrating the audiobook version of
All the Truth.
She was as warm and delightful as I had found her voice to be from the first moment I heard her audition reel. This was our first meeting, but it felt like a reunion of old friends.
With actress Kathleen McInerney
Another longtime friend I met for the first time at BEA was author Holly Goldberg Sloan. Holly's new middle grade,
Counting by 7s
, is a must-read, gorgeous, heart-bursting book. Both our titles are Penguin Blue Ribbon picks this year (see banner in the picture above), and we'll be doing some promotion together this fall. I can't wait. I can tell I'll never have a dull moment traveling around with Holly. Here's a picture of us together at SLJ's Day of Dialog.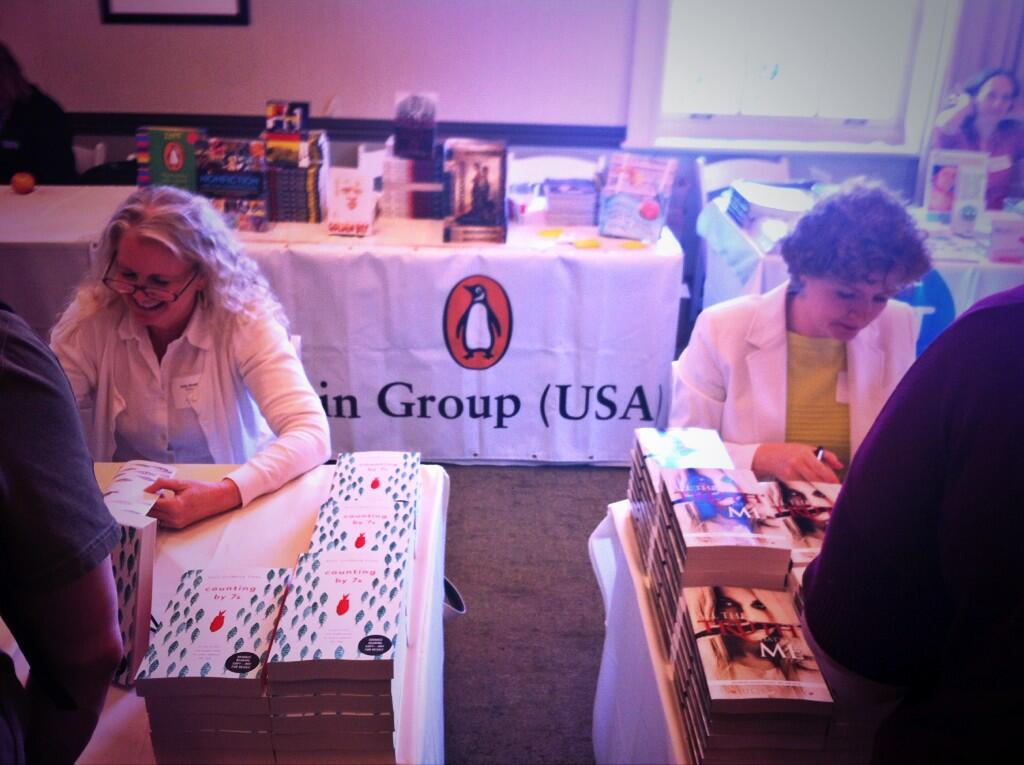 Holly Sloan signs Counting by 7s while I sign All the Truth.
Back to Thursday: in the evening I attended the Penguin Bird Bash, a party for bloggers. We snapped photos of ourselves with goofy hats and masks, hugging a humanoid Penguin in full fuzzy costume. Waiting for someone to send me those pics!
Friday's shindig, for me, and every other Penguin children's/teen author in town, was a cocktail party on the top floor of the Standard Hotel, filled with bright sparkly authors in bright sparkly clothes, overlooking a breathtaking view of New York. Here's a picture, not of our party, but of the space.
Me, my lovely editor Kendra, and William Wegman
This suburban mom doesn't get to many cocktail parties, but I managed to not stumble in my heels or spill anyone's drink down their dress. A high point was meeting artist and author William Wegman and giving him a command performance of the Nutty Fruitcake Dance from "Fay's 12 Days of Christmas." Talk about your conversation starters. I wish I had pictures of this party, but my silly camera was on the fritz, so you'll have to take my word for it – I was there, and the party was fabulous. (No causal connection implied.)
When I wasn't flitting about BEA, I ate my way across midtown Manhattan and back with my husband. We had a glorious time. Every restaurant was a home run – Thai, Turkish, Italian, vegetarian, and 2 trips to Pinkberry for frozen yogurt to beat the crazy heat. I realized afterwards that we ordered an eggplant dish everywhere we went (except Pinkberry). Does it mean something?
A huge thank you to Penguin Young Readers Group for inviting me to join the fun, and another thank you to all the advance readers of All the Truth for taking time to read and share your thoughts.
Stay tuned for more reporting from ALA in Chicago in late June as ongoing promotion of
All theTruth that's In Me
continues! (Releasing September 26 from Viking/Penguin.)