I was lucky to attend the American Library Association Annual Conference in Chicago, IL June 29-July 1. It was my first ALA trip. Big thanks go to Penguin's school and library marketing team for this opportunity to meet so many librarians and discuss All the Truth That's In Me.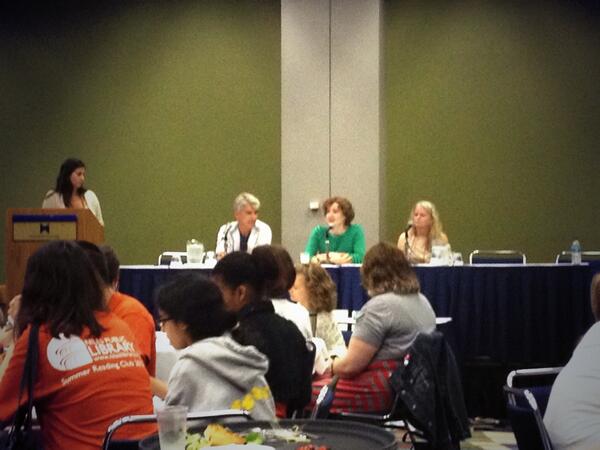 YALSA panel w/ DJ MacHale & Holly Sloan
My first event was an informal pizza lunch with the YALSA Teen Advisory Board which included a panel with DJ MacHale (author of thriller Sylo) and Holly Goldberg Sloan (author of Counting By 7s). The YALSA Teen Advisory Board is made up of avid, smart, passionate teen readers who give input on galleys for publishers and take part in YALSA Teen Feedback Sessions at ALA conferences. How cool is that? I would have LOVED to be part of something like this at their age.
They peppered us with great questions. Q: Do you use an outline when you write? DJ: Definitely. Holly: No way. Me: Sometimes? Q: When you write, do you actually think about the themes and symbolism in your story? DJ: No! Holly: No! Me: Uh … sometimes?
After the panel, I met up with my friend Hannah Barnaby, author of Wonder Show, at a new franchise restaurant called Freshii. I hope Freshii finds its way to Boston soon. Loved their healthy-organic-nerdy-type food. Yum!
Holly Sloan enchants Blue Ribbon guests
That evening I attended a Penguin Blue Ribbon Author Dinner at Bristol Restaurant. Oliver Jeffers (illustrator of #1 NYT Bestseller The Day the Crayons Quit), Holly Sloan and I spoke to a great group of librarians. Oliver was witty and charming, of course, with an accent that slayed all us ladies. Holly was scintillating as ever, and then I got up. Never go last! To meet more people, Oliver, Holly and I switched seats twice throughout the evening. I apologize to anyone whose water I inadvertently drank.
Coffee Klatching w/ YALSA librarians
Next morning, I attended the YALSA Coffee Klatch – a speed-dating event for authors and librarians. Imagine a huge banquet hall filled with round tables, eight librarians at each one. Each author takes a number, sits at that table, talks up his or her book for four minutes, then goes to the next table when the bell rings and starts over. I ended up at the wrong tables twice. Hearing about new books doesn't get old for these superstar teen librarians. I'm grateful they're the ones keeping the reading torch lit for teens nationwide.
Andrea Pinkney and Brian Pinkney
After that I roamed the trade show floor. I couldn't resist buying
Hand in Hand: Ten Black Men Who Changed America
by Andrea Davis Pinkney and Brian Pinkney for my boys – a beautiful and necessary book.
I also bumped into several author friends including Sarah Aronson, Carol Brendler, Kelly Barson, Gwenda Bond, Nancy Werlin and her husband Jim McCoy, Tanya Lee Stone, and Jane Kurtz.
At my signing.
From 2-3 that afternoon I signed galleys of
All the Truth
for a long line of new faces, plus some dear friends.
Tanya Stone, Sarah Aronson, Kelly Barson
That evening, I attended the Newberry Caldecott Wilder Banquet. Caldecott Medalist Jon Klassen's (This is Not My Hat) heartfelt speech made us all part of his family, sharing in his triumph. (He set many hearts in the room a-flutter.) Newbery Medalist Katherine Applegate (The One and Only Ivan) was funny and poignant. She read from one of her earliest works: a bodice-ripper! Hilarious. Katherine Paterson's speech on her (richly deserved!) Wilder Lifetime Achievement was a highlight of the evening.
At banquet w/editor Kendra Levin.
The weekend couldn't end without me embarrassing myself. I met Nathaniel Parker, whom I adore as the voice of Butler in the Artemis Fowl audiobooks. I fangirl-spazzed, and asked him to "talk Butler" to me. (If you've heard it, you know how swoon-worthy it is.) Bless his fuzzy heart, he was a sport about meeting a lunatic like me.
Thank you, ALA, Penguin, and all of you beautiful librarians for making my weekend in Chicago so much fun!
Penguin Young Readers Group booth displays All the Truth beautifully.