My newest novel, Lovely War, is finally here. I'm so excited to share it with the world.
Hades, Ares, Aphrodite, Hephaestus, & Apollo.
All illustrations by Laura Molnar.
Lovely War tells the story of two pairs of young lovers who fall in love during the final year of World War I. In an unusual twist, their stories are told by Greek gods. Hephaestus, god of forges and fire, catches his wife, Aphrodite, goddess of love, in the arms of her lover (and Hephaestus's brother), Ares, god of war, in a swanky Manhattan hotel in 1942. He ensnares the pair in a special net he's forged, and threatens to humiliate them in court on Mount Olympus. Aphrodite bargains for a private trial and pleads her cause in the mock court case that ensues, explaining to Hephaestus and Ares what real love is, and why her work is so important, especially in times of war. To do so, she tells the love stories of Hazel and James, and Aubrey and Colette, summoning other gods as witnesses to supply their accounts. Ares brings us into the trenches, while Apollo, god of music, adds ragtime to the story, and Hades, lord of the Underworld, walks us through death's valley. A Greek chorus of Greek gods accompany this journey back to 1917 at every stop.
James
Hazel
At a London parish dance, Hazel Windicott, an aspiring pianist, meets James Alderidge, who hopes to be an architect, if he survives the war. After a whirlwind few days together, he departs for France. Their romance continues through letters until Hazel makes the bold decision to leave her respectable life and her piano lessons behind, and volunteers as an entertainment secretary with the YMCA in France. She's stationed at an American Army base, where she befriends a Belgian refugee, Colette Fournier, a singer who lost her entire family in the massacre at Dinant, Belgium, in the early weeks of the war. Hazel also meets Aubrey Edwards, an American soldier and ragtime pianist from the fabled Harlem Hellfighters regiment in the segregated army. Music brings these three together, and soon sparks fly between Colette and Aubrey, despite US Army rules prohibiting any contact between black servicemen and white women, and the animosity of white supremacist doughboys willing to lynch black soldiers to keep them in their place.
Aubrey
Colette
The war that brought these four together also tears them apart, as carnage, trauma, and hatred rage around James in the British trenches and Aubrey with the US Army, and as Hazel and Colette endure privations, hard labor, sexism, and the agony of waiting for news of their beloveds, long past hope and reason.
Attempting to understand the geopolitical and social currents that shaped World War I has been a privilege and a joy, if also a hard slog through mountains of information, much of it harrowing to the soul. I love these characters, just as I've come to love and honor, as best I can, the actual people who lived and died and endured the Great War, both in its gruesome battlefields and on its grim and, at times, violent "Home Fronts."
Now
Lovely War
is out, and reviewers have been extraordinarily kind. The book has earned five starred journal reviews from
Kirkus
,
The Horn Book
,
Booklist
,
Publisher'sWeekly
, and
School Library Journal
, as well as stars from other industry publications including
BookPage
and
Shelf Awareness
. Amazon editors have named it a
Best Book of the Month for March
. The
New York Times
called it a "virtuoso" work; the
Wall Street Journal
called it "phenomenal;"
The Washington Post
calls it "sweeping, epic, brilliant,"
Cosmopolitan
called it one of the "11 best books you'll be obsessed with in 2019."
Entertainment Weekly
writes, "Whatever muse is singing in Berry to produce her lyrical writing, we'd like to lobby for their services." You can find interviews with me at
Kirkus Reviews
and
Publishers' Weekly
.
I've got a busy travel schedule this spring, promoting
Lovely War
all around the country. Chances are good that I'll be making my way to a bookstore or festival near you! For a full roster of readings and signings, visit
www.julieberrybooks.com/events
.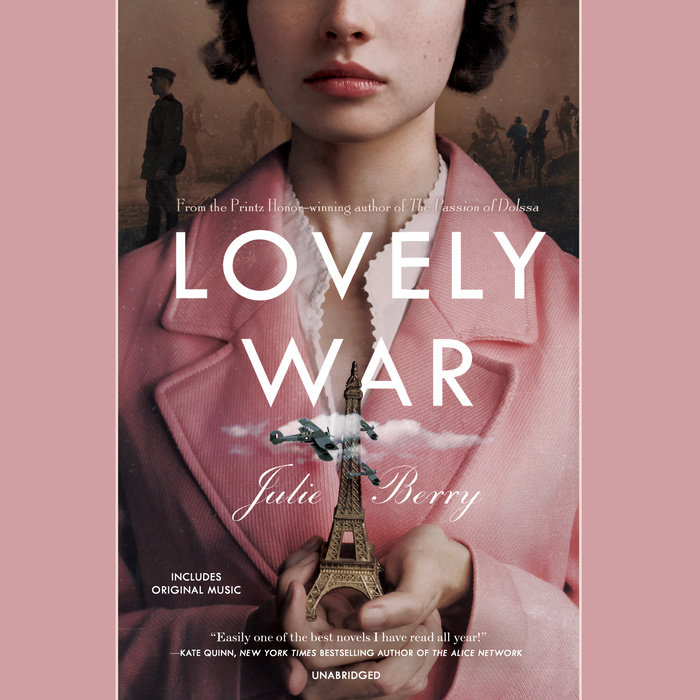 Audiobook lovers: the
audio performance of Lovely War
is delicious, featuring a star-studded cast of performers including the inimitable Jayne Entwistle, Allan Corduner, Nathaniel Parker, Dion Graham, Fiona Hardingham, Steve West, and John Lee, as well as lots of original ragtime musical compositions and arrangements, written and performed by my friend Benjamin Salisbury. Don't miss this one!
I hope you have as much fun reading
Lovely War
as I had writing it. It's a bit of a door-stopper, but you'll read in in a day or two or six, which always feels a bit unfair to me, after the year-plus toil it took to write it. But such is the fate of a writer. Chime in and let me know what you think. (Unless you hate it, in which case, you can let me know by certified mail.)
J