In 1998 my second son was born. He was a lazy nurser and didn't gain weight as fast as doctors would have liked. I settled on a plan to nurse that boy for as long as I could, feeding after feeding. Eventually he thrived, but the long hours, day and night while still raising a toddler made me loopy. I stumbled into the Bloomfield, NY public library and saw a shiny new children's book on display:
The Iron Ring
by Lloyd Alexander. Somehow I'd made it through my childhood never hearing of him. The cover intrigued me so I checked out the book, and started reading it during that night's wee-hour feedings. It was the first children's book I'd read in probably six or eight years.
It so completely enthralled and enchanted me that when I finished I looked up Lloyd Alexander's home address in Drexel Hill, Pennsylvania, and wrote him a gushing letter, telling him how his book had reminded me of my childhood dream of writing children's books someday. He very kindly wrote back and encouraged me. I began devouring all the other Lloyd Alexander titles I could find, and wrote to him again. Again, he responded with friendly warmth. I won't ever forget that thrill I felt. Most readers get this phase out of their systems at age 11, but I had never written a letter to an author before.
I just finished reading
The Iron Ring
again tonight. I am a children's author now. Perhaps I wanted to revisit that place where the dream first reawakened. I wish I still had a little baby to hold. Instead, I was up till midnight with a fifth grader finishing a project that was assigned a month ago, and is due tomorrow. Motherhood still demands its late nights. And I can't read the novel like I did the first time. I've read enough Lloyd Alexander to recognize his trademark formula: the hapless youth with grand dreams sets out on a wild adventure with a wise, clever, beautiful (but lower-rank) female, and acquires a motley crew of wise-cracking eccentrics, talking creatures, with maybe a mystic and a heavy thrown in. Hapless youth loses all, learns humility, defeats bad guy w/o bloodying his hands, gets girl. An appealing formula, to be sure, and yet in this second reading of the novel, I find myself flinching a bit at how readily the characters (based on Indian folklore) chuck their caste system by the end. And I've received enough criticism for love-at-first-sight in my own first novel not to cringe at it now.
But for all that, I still enjoyed the book this time around, even if not in the same wide-eyed, rapturous way. I am older. I read differently. I never wanted that to happen. But if I gush less, it doesn't mean I feel less. I can feel Alexander's commitment to compassion, even if he may not see all the risks inherent in appropriating another culture's folklore. I remember the compassion with which he wrote back promptly twice to a desperate house-bound young twenty-something lactating looney and said, "I'm sure you can be a writer someday!" And I remember that bringing books into the world is a generous act on behalf of the hungry readers who'll devour them. This is the part I sometimes forget, now that I'm more in the kitchen and less in the dining room. Dreams may lose sparkle over time, but they don't have to lose their meaning.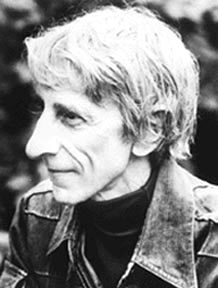 Lloyd Alexander, 1924-2007